Overseas Shipping Fees and Days
• Shipping fee includes international shipping fee and fuel surcharge.
• The international shipping fee is calculated based on both the package size and weight. Whichever is larger will be charged.
• The delivery time starts counting from the display of the shipping order.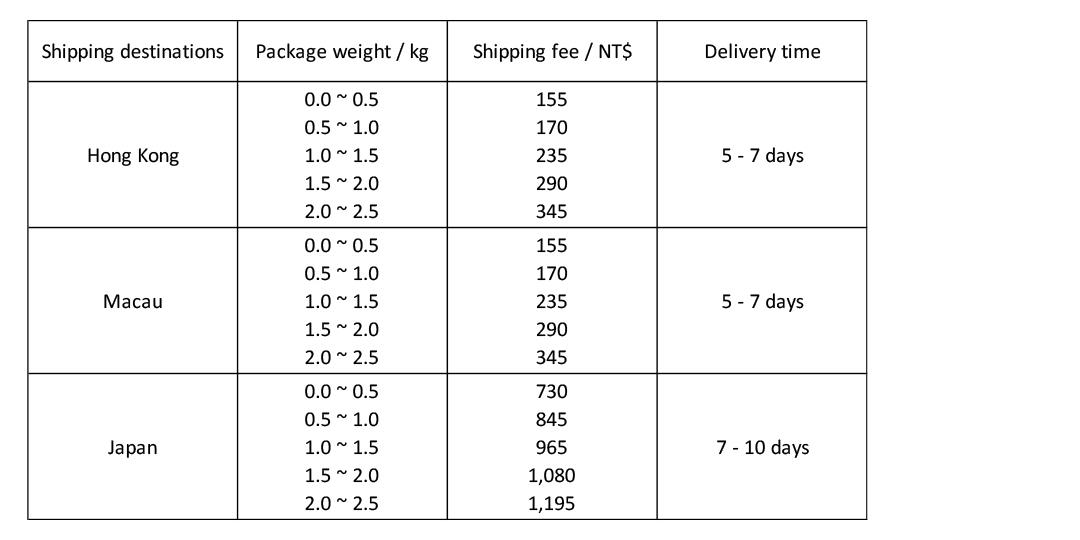 Overseas Payment Methods
• We accept credit card payments for overseas orders.
• Credit card transaction fees for overseas orders depend on the card issuing bank of the customer.
• The currency exchange rate fluctuates daily, and the amount in foreign currency is for reference only. The final checkout amount will be in New Taiwan Dollars (NT$).
Notes on overseas orders

• Please make sure to check the address for accuracy before placing an order. If the order is returned due to an incorrect or undeliverable address, the buyer will be responsible for the round-trip shipping fees and any applicable customs duties. The returned order will be cancelled and the remaining balance will be refunded after deducting the relevant shipping fees. 
• English addresses are required for areas outside of Hong Kong/Macau. Please provide the address in English when placing an order. 
• Returns and exchanges are currently not accepted for overseas orders.
• If you receive a defective or incorrect item, please email the customer service: dttofriends.service@dcard.cc, and our customer service staff will assist you as soon as possible. 
Pick up at 7-11 convenience stores / lockers in Hong Kong and lockers in Macau. 
• Payment must be completed before picking up at the designated store or locker.
• There are size and weight restrictions for packages picked up at convenience stores. If the package exceeds the size or weight limit, the order will be automatically canceled and you will be notified by email to place a new order. If you purchase larger items (2 or more plush toys or cushions), it is recommended to choose home delivery. 
• If you fail to pick up the package at the store within the specified time frame, the local logistics will deliver the package to the *"overdue unclaimed delivery address" (only a general receiving address can be provided)* you filled in during purchase by *"cash on delivery"*. The actual shipping fee will be charged by the delivery company on-site. If multiple delivery attempts fail and the recipient cannot be contacted, the delivery company will not return the package and no refund can be processed, so please pay attention to this.